On January 11, 2016, the Weichai 2016 Business Conference Ship and Power Branch was held. The meeting summarized the results of 2015 and established the overall ideas and key strategies for 2016 work. According to the plan, the 2016 Weichai shipbuilding business aims to achieve a growth of 20-30%.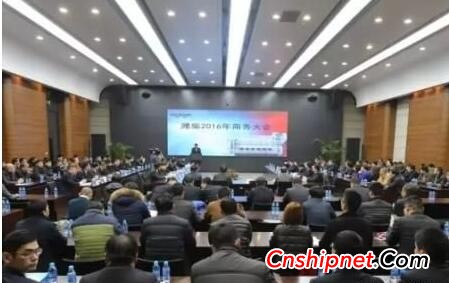 In 2016, Weichai will continue to improve the product layout, meet the differentiated needs of customers, continuously increase investment in research and development, do a good job in various products, and strive to build a more complete and broader product layout to meet the differentiated needs of customers; Product quality, create a core competitive advantage; continue to increase service and improve market security.
Products are the cornerstone of the company's growth and development. At the meeting, Weichai mainly recommended a number of marine power products. After years of careful layout, the marine gas engine, WHM160/170 engine and other products have been developed and upgraded. Weichai has a full range of marine products that meet the emission standards. Among them, WHM6160 products are the most eye-catching.
Based on the future market demand and product upgrade trend, in 2015, Weichai independently developed the WHM6160 product, which not only maintains the advantages of the original product, but also has more excellent performance indicators. Weichai WHM6160 series diesel engine is a new generation of medium-speed machine products with high reliability, high economical efficiency, and is a new generation of medium-speed machine products developed by Weichai's 60-year diesel engine development experience and absorbing the mature technology of advanced products at home and abroad. High versatility.
It is reported that through the structural optimization of parts such as the body, crankshaft, connecting rod and piston, the reliability of the whole machine is greatly improved, and the overhaul period reaches 20000h; the fuel consumption rate is greatly reduced, reaching the level of the electronic control machine, and the engine oil consumption is reduced by more than 50%; More than 90% of the parts of the whole machine are common to 170 products, and the maintenance cost is low.
On June 19, 2015, the first ship trial of WHM6160 was successful. It has been running for six months without faults and has been put on the market for dozens. Among them, in Dandong Port of Liaoning, WHM6160 has been running for nearly 2000h. Compared with the original engine used by the user, it saves 100L of fuel every day and reduces engine oil consumption by more than 50%.
In 2015, Weichai's WHM6160 series diesel engine was recognized by the market, but this is obviously not the ultimate goal of Weichai. The layout of the product line is the intention. In 2016, Weichai will upgrade the traditional products, speed up the development of new platform products and new fuel products, consolidate product and technology advantages, increase product added value and core competitiveness, and develop high-end products for military products and communications. Generator (product library purchase supply) group, improve the brand image and market competitiveness of Weichai generator set; rely on Weichai's strong R&D strength and integration capability, break through key technology bottlenecks, master core technology, accelerate product emission upgrade research, and effectively A solid foundation should be laid for the upgrade requirements of emission regulations.
Weichai's careful layout of products has injected confidence into the majority of dealers. Chen Chunjun, general manager of Yangzhou Weichai Sales and Service Co., Ltd., was one of the first agents of Weichai 17 years ago. The annual business conference, almost every time, he felt that this year's surprise was especially: "In recent years, the economy The situation continues to be sluggish. We have been looking for breakthroughs. This time, we learned about the many work that Weichai has done in terms of products and gave us confidence that there will be new breakthroughs in 2016!"
Yangzhou Gemini Vehicle Industry Co., Ltd. has more than 20 years experiences in producing and selling metal body parts of various vehicles. We are specialized manufacturer of REAR Fenders used for HYUNDAI, including ACCENT, ELANTRA, CRETA, SONATA, TUCSON, SANTA, MISTRA, STAREX, I10, ATOS, I30, and H100 PORTER. We own Hydraulic Machines, Punching Machines, Numerical Control cutting Machines, CNC Grinding Machines, Painting and Electrophoresis Coating lines. We provide "Professional Efficient Effective" service to all of our domestic and oversea customers. We are very glad to be contacted by you and hope that we can keep a long-term cooperation on the business of Steel Body Autoparts.
REAR Fenders For HYUNDAI
REAR Fenders For HYUNDAI,HYUNDAI Bobber Rear Fender,HYUNDAI Shadow Fenders,HYUNDAI Red Rear Fenders
Yangzhou Gemini Vehicle Industrial Co., Ltd , https://www.yzqsap.com