On March 14th, 2016, Yuchai's "YC6MK series diesel engine R&D and industrialization project" won the 2015 Yulin Science and Technology Special Contribution Award at the 2016 Yulin Science and Technology and Intellectual Property Work Conference. Shen Jie, Senior Technical Consultant of Yuchai's Chairman and the first completeer of the project, attended the conference on behalf of the project team and received a certificate of honor.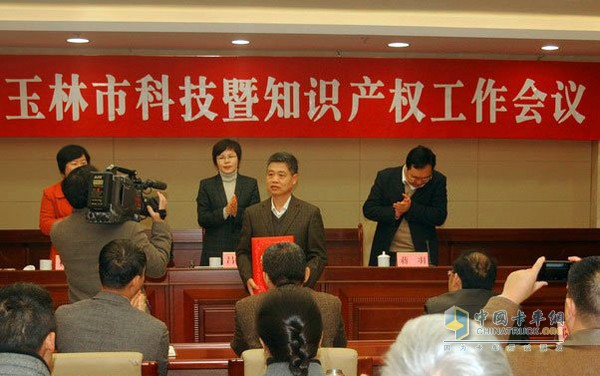 Yuchai YC6MK project won Yulin Science and Technology Special Contribution Award
YC6MK series diesel engine is an energy-saving, environmental protection and safety type diesel engine independently developed by Yuchai with complete independent intellectual property rights and international advanced level. This type of engine is Yuchai's main heavy-duty product, which is based on YC6M diesel engine technology upgrade and is innovatively developed in accordance with Yuchai's YCEDP engine product development process.
YC6MK series diesel engines are the first in China to adopt advanced integrated and top-down layered forced cooling system cylinder heads, new combustion systems, integrated body and cylinder cover structure with uniform cylinder head bolts, and new high-efficiency cooling system , Cross-flow cooling body water jacket, and developed advanced after-power take-off power output system and variable valve brake technology security system and other core technology programs and applications. This type of engine has also been targeted for the development of the market segment, standard configuration of the brake technology within the Bo cylinder, Germany Kamai tin bolts, the Federal Reserve headquarters cylinder mat and other configurations, greatly improving the product reliability, is the tractor, The ideal heavy machine power for trucks, construction vehicles, special vehicles, roads and buses, and BRT.
The YC6MK series diesel engine successively took away the 2011 Quality Award, the 2012 Commercial Vehicle Engine, the 2012 Quality Engine Award, the 2013 Independent Innovation Engine Award, the 2013 Best Coach Power Award, the 2014 Best Environmental Protection Technology Product, and the Chinese Fishing Boat Honored as a brand-name product for fishing gear and fishing gear industry, it has been selected into the list of famous and high-quality electromechanical products. It is a highly competitive heavy machine product in China's engine market, which has won a good reputation in the market and created good economic benefits for the company.
Ground finishing machine is also known as cement finishing machine, its main structure is a gasoline engine driven spatula rotor, in the middle of the cross bottom of the rotor equipped with 10 spatula.
Spatula tilt direction and rotor rotation direction is the same, driven by gasoline engine triangular belt spatula rotor rotation.
When operating, fire first, hold the control handle, two push forward together is to move forward, pull back together is to move back.
It can do 100 ~ 300m2 per hour on average, which can improve working efficiency more than 30 times compared with manual polishing.

Power Trowel,Concrete Power Trowel,Mini Power Trowel,Electric Power Trowel
Shandong Luteng Building Equipment Co., Ltd. , https://www.lutengmachinery.com