Recently, the lubricating oil industry is again in the limelight, and information on price increases is overwhelming. At the beginning of 2017, major major brands of lubricants began to queuing for price hikes: Philips 66 increased prices by 5%, and implemented new prices on February 27; US Citgo brands increased prices by 3%-5%, and implemented new prices on March 1;
Exxon Mobil
Corporation increased its price by 5% and implemented new prices on February 22; Chevron increased its price by 5% and implemented the new price on March 6; Omni increased its price by 5%-8% and implemented the new price on February 22; The United States Cam2 brand prices increased by 5%-8%, and the new price was implemented on February 22;
Shell's
price was 5%, and the new price was implemented on February 20.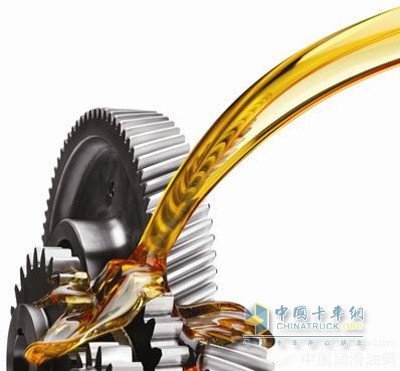 Major major brands of lubricants have increased prices
Raw materials, additives and other raw material prices rose
Throughout the second half of 2016, due to sluggish demand in the domestic base oil market, the overall market price trend was in a weak consolidation phase; however, the crude oil market was favored at the end of the year, first at the end of November, and OPEC reached its first production cut in eight years. Agreement, market sentiment was greatly encouraged, oil prices soared nearly 9%. Just as the market is ready to digest this, another good advantage will come. OPEC and non-OPEC oil producers reached the first joint production cut since 2001 in Vienna on December 10th. The agreement, and set a non-OPEC oil production history since the largest reduction in production, international crude oil prices continued to rise sharply, base oil ushered in gains, mainstream prices pushed up 10-20%, individual models rose by 23%. The production cost of lubricant companies increased by around RMB 1,000/ton in a month or so, which has also become the main reason for the increase in the prices of many lubricant brands.
On the other hand, as an indispensable part of lubricating oil, the price of additives has also shown a rising trend. Since the third quarter of 2016, import prices of additive raw materials have increased due to exchange rate factors. At the same time, affected by policy factors, most factories have restricted or stopped production, market supply has declined, and costs have risen.
Lubricant packaging material prices soaring
Since November 2016, with the rise of international crude oil prices, coking coal prices have increased by 200%; PVC prices have increased by 60%; glass prices have increased by 40%; plastics prices have increased by 30%; aluminum prices have increased by 30%; and steel prices have increased by 30%. %; stainless steel also soared by 40%! Among them, the plastic, steel, paper-based raw materials and lubricants companies have a close relationship with the production supply chain. Each one point increase in these raw materials will place significant pressure on the production of lubricants, which will affect market operations.
At present, polyethylene, the main raw material for producing plastic products, is a petroleum derivative. Due to the recent rise in crude oil prices, the price increase of raw materials such as polyethylene has reached nearly 40%, plastic packaging prices have increased by 15%, plastic bucket prices have increased by 20%. , The increase in production costs has become the main cause of price increases.
Increase in logistics transportation costs
Since September 21, 2016, the National Multiministerial Commission issued a joint "Super Highway Vehicle Management Regulations" that directly led to a 33.6% increase in the unit price of freight, plus the corresponding increase in tax, the actual freight rate rose by more than 35%. Subsequent regulations on the illegal overloading of dangerous chemicals transport vehicles have further exacerbated the strain on transport capacity and the rise in freight rates. In the near future, due to environmental pressures such as haze management, the restrictions on large trucks have become increasingly stringent, the capacity continues to be tight, and prices have continued to rise.
On the whole, with the rising trend of several major factors such as lubricant raw materials, packaging, and logistics costs, it is inevitable that the price of finished lubricants will rise. 2017 is a crucial year for oil lubricants practitioners. Continuously enhancing the brand value and improving product quality is still the key to the private oil companies' breakthrough in this surge of prices.
Continuous Waste Plastic Pyrolysis Plant
Pyrolysis Plant is used for recycling waste tire, waste plastic, waste rubber to fuel oil. According to the actual situation in every country and district, we developed different models of Batch Pyrolysis Plants for waste tires, rubber and plastic with daily capacity 25-40 tons.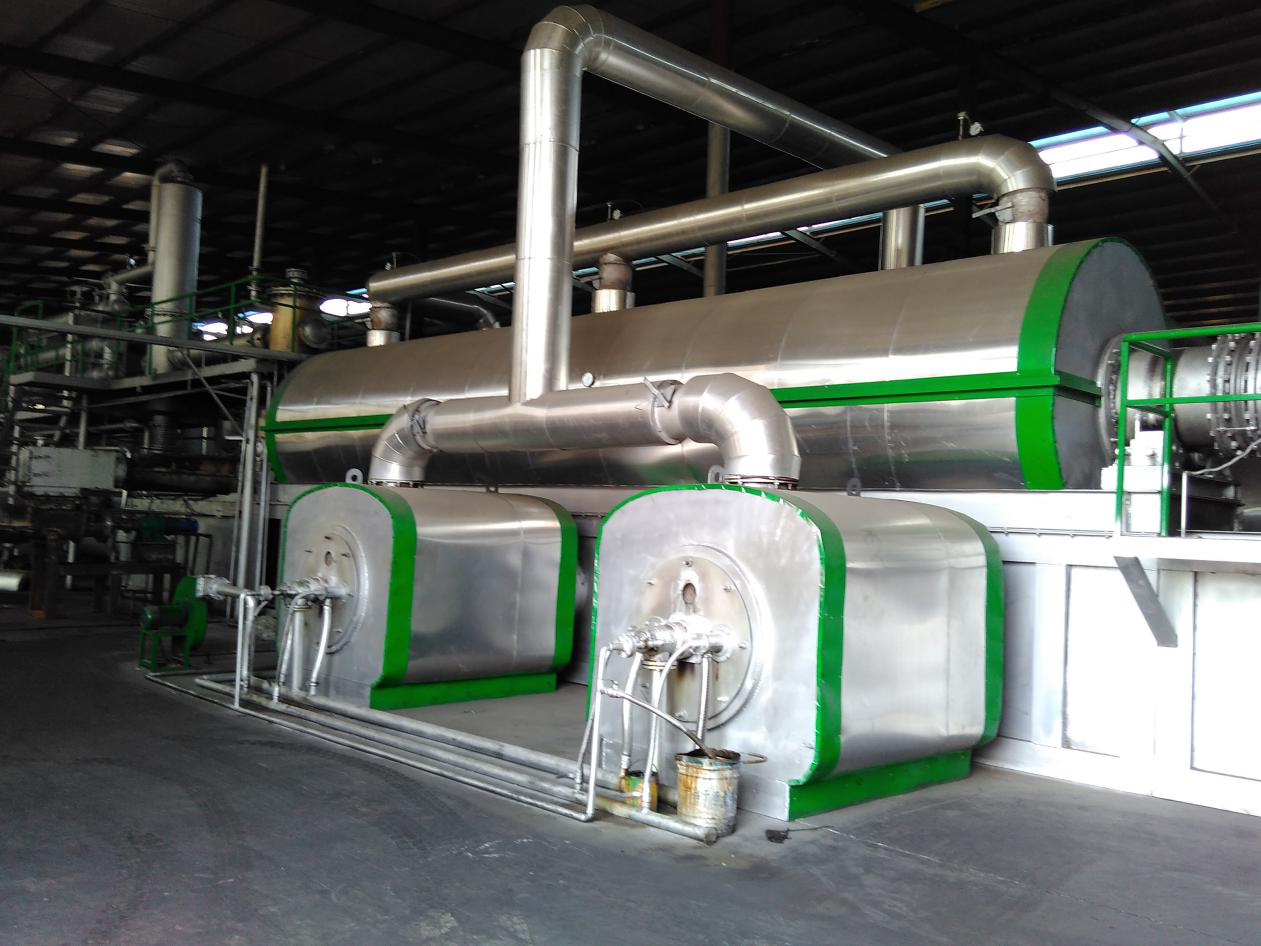 Flow-chat of Continuous Waste Plastic Pyrolysis Plant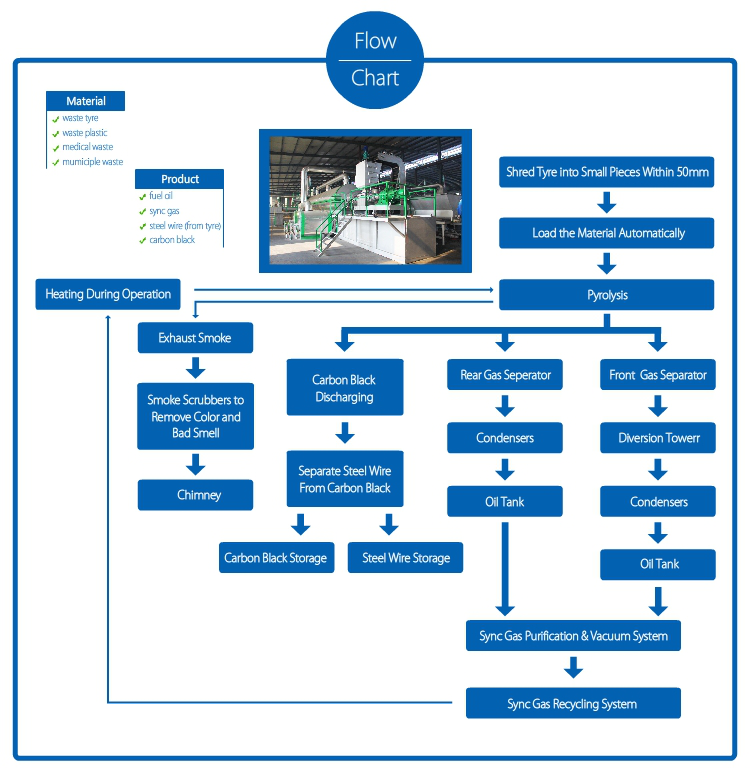 Advantages of Continuous Waste Plastic Pyrolysis Plant
1. Large daily capacity of 25 MT raw materials, and can work 24 hours without any stop for 15-20 days;
2. Auto-loading, auto-discharging and oil coming out at the same time;
3. Only need fuel for the beginning 2-3 hours, then the sync gas generates itself is enough to support heating, saving fuel cost;
4. Low requirement on the raw materials, no need tiny granule, 5cm pieces acceptable for smooth running;
5. High efficiency condensers, more oil output, good quality oil, easy to clean.
6. Sync gas recycling system, fully burned after recycling and utilization, preventing pollution and saving fuel cost.
7. National patent smoke scrubber, can efficient remove the acid gas and dust of the smoke, environmental friendly to meet related national standards.
8. Easy to operate, need less manpower.
Technical Parameter of Continuous Waste Plastic Pyrolysis Plant
| | | |
| --- | --- | --- |
| NO. | ITEM | Technical Parameter |
| 1 | Suitable Raw Materials | Small pieces of Waste tyre,rubber, waste plastic≤5cm |
| 2 | Operating Mode | Fully Continuous Operation |
| 3 | Structure | Horizontal Type Revolve |
| 4 | Loading and discharging | Fully Automatic Feeding and Discharging under High Temperature at Same Time |
| 5 | Capacity(24h) | 8-20Mt |
| 6 | Work Pressure | Slightly Negative Pressure |
| 7 | Oil Yield of tyres | 40%-45% |
| 8 | Reactor Rotational Speed | 1R/M |
| 9 | Installation Power | 110kw |
| 10 | Cooling Method | Cycle water |
| 11 | Type of Drive | Sprocket Wheel |
| 12 | Heating Method | Hot Air |
| 13 | Noise dB(A) | ≤85 |
| 14 | Main Reactor Weight (MT) | About 20Mt |
| 15 | Total Weight(MT) | About 45Mt |
| 16 | Installation Space Required | 60m*20m |
| 17 | Manpower | 2/shift |
| 18 | Shipment | 5*40HC |
| 19 | Delivery time | ≤70Days |
Continuous Waste Plastic Pyrolysis Plant
Continuous Waste Plastic Pyrolysis Plant,Continuous Plastic Pyrolysis Plant,Plastic Pyrolysis Plant
Shangqiu Jinpeng Industrial Co., Ltd. , https://www.recyclingthewaste.com