In 2015, the output value of LED lighting energy-saving industry is expected to reach 450 billion yuan, and the policy orientation of localization of key equipment and important raw materials will benefit related listed companies.
The National Development and Reform Commission released the "Semiconductor Lighting Energy Conservation Industry Plan" yesterday, and by 2015, the key equipment and important raw materials for the semiconductor lighting energy-saving industry will be localized, and major technologies will make breakthroughs. High-end application products have reached the international advanced level, and the energy-saving effect is more obvious. The concentration of LED lighting energy-saving industry has gradually increased, the industrial agglomeration area has been basically established, and the competitiveness of a group of leading enterprises has been significantly enhanced. The R&D platform and standards, testing and certification systems have been further improved.
Specifically, the first is that the effect of energy conservation and emission reduction is more obvious, and the market share is gradually expanding. By 2015, all incandescent lamps for general lighting above 60W will be eliminated, and the market share will drop below 10; the market share of traditional high-efficiency lighting products such as energy-saving lamps will be stable at around 70; the market share of LED functional lighting products will reach 20 or above. In addition, LED LCD backlights and landscape lighting market share of 70 and 80 respectively. Compared with traditional lighting products, LED road lighting saves more than 30, indoor lighting saves more than 60, backlight application saves more than 50, landscape lighting saves more than 80, realizes annual energy saving of 60 billion kWh, equivalent to saving standard coal 21 million tons, reducing carbon dioxide emissions by nearly 60 million tons.
Secondly, the industrial scale has grown steadily and the strength of key enterprises has increased. The development goal of the LED lighting energy-saving industry is that the output value will increase by about 30 per year, reaching 450 billion yuan in 2015 (including 180 billion yuan for LED lighting applications). The industrial structure was further optimized, and a number of distinctive semiconductor lighting industry clusters were built. Form 10~15 leading enterprises with core technology, more independent intellectual property rights, well-known brands and strong quality competitiveness.
The third is that the technological innovation capability has been greatly improved, and the standards, testing and certification systems have been further improved. The localization rate of LED chips is above 80, and silicon-based LED chips have made important breakthroughs. The luminous efficiency of the core device and the quality of the applied products have reached the international advanced level. The large-scale MOCVD equipment (LED epitaxial wafer production equipment) and key raw materials have been localized, and the localization rate of testing equipment has reached 70 or more.
An electronics industry analyst at a securities firm in Shenzhen pointed out in an interview with the Securities Times reporter that the plan highlights the policy orientation of localization, including equipment and chips, as well as products such as backlights and street lamps, which will help Tianlong Optoelectronics 6.213.16 Capital research and other MOCVD manufacturers, Nanda Optoelectronics 58.460.02 fund research report and other high-purity metal organic sources (MO source) manufacturers, as well as backlight companies Ruifeng Optoelectronics 17.964.42 fund research report, street lamp leading enterprises Qinshang Optoelectronics 11.195.57 Capital research report, domestic chip leading company Sanan Optoelectronics 13.503.29 fund research report and Dehao Runda 7.642.55 fund research report and other related companies. However, the analyst also reminded that although the industry's economic climate has shown signs of recovery recently, the overall situation is still not very good, the price has been falling, and the income is not increased.
According to statistics, in recent years, the annual growth rate of global LED lighting energy-saving industry output value has remained above 20. By 2020, the global lighting market will exceed 150 billion US dollars, and the LED lighting market is expected to reach 75 billion US dollars, accounting for 50% of the global lighting market.
Liugong Bullzoer Part
Liugong Bulldozer Part Including Liugong bulldozer Undercarriage part , Engine part and Electrical part .
1. Liugong Buldlozer TD40-E Product Technical Parameter
Cab comfort, sealing, sound insulation, equipped with: air loop system, air conditioning/warm wind again, luxurious and comfortable suspension seat can be adjusted to the right to 14 degrees, in line with the ergonomics design of joystick, make the shovel manipulation
Slightly tilted and tapered hood gives the operator a wider view of the shoveling tool pusher
Unique suspension design, high reliability, easy to drive smoothly
The front scraper hoist cylinder provides more lift force for the shovel
The large-capacity shovel is equipped with full-width wear protection plate and double system of left and right tilt/back tilt, which is suitable for all types of pushing work
The 384KW (515hp) cummins QSK19 engine meets European EUStage 3A and us EPA Tier3 emission standards
Multi - component modular cooling system, with hydraulic driven fan, different speed, improve cooling capacity
Double open shutter type radiator grille
The walking speed preset system and automatic gear reduction function improve the working efficiency
The modular drive system facilitates the diagnosis and detection of ports, filters and observers, and improves the maintainability
The unique dual speed steering system provides superior traction, steering ability, 6 different speed forward and backward gear
Advanced electro-hydraulic control system
The enlarged track center distance improves slope stability and heat dissipation performance
The front and rear lights provide adequate lighting for night operations
It can be used in polar and hot climate, metallurgy and coal shoveling to improve the versatility of bulldozers
Two gear drive steering system provides good transmission steering performance
Large capacity shovel, more load
2. Liugong bulldozer Model
TD40-E, B160C, B160CL, B161CL, B230,B230R, B320 Bulldozer
3. Liugong bulldozer undercarriage spare parts TD40-E bulldozer
Track system is Maintain correct Track Shoe Aseebly tension, Absorb the vibration of the guide wheel as the bulldozer moves. Crawler Ider assembly and work with the crawler tensioning mechanism to provide the crawler assembly with the appropriate tightness. The Track Roller (Single or Double Flange) supports the weight of the bulldozer on one hand and prevents the track from derailment during walking on the other.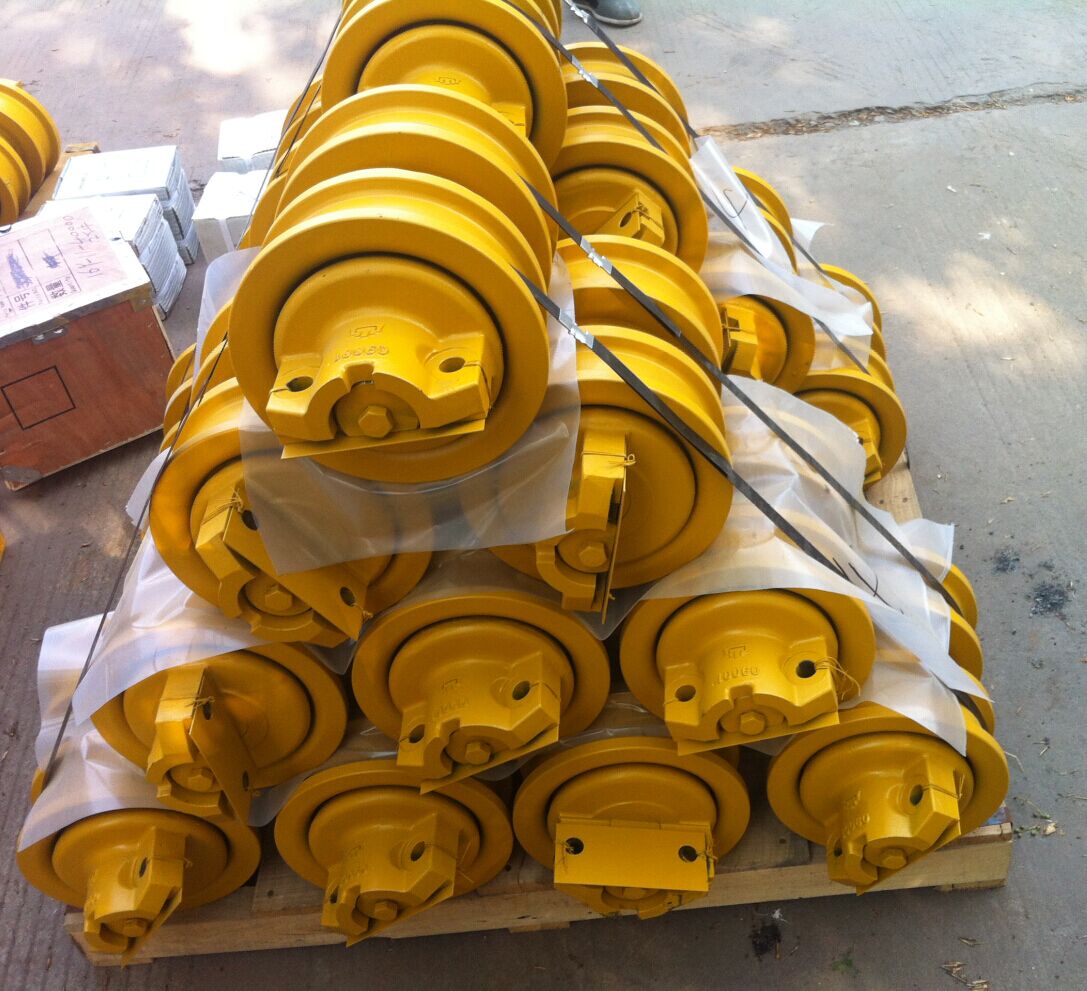 4. Liugong bulldozer Use Engines Type
TD40-E Cummins QSK19 Engine 384KW 515HP
B160C Weifang Diesel Engine WD10G178E25 120KW
B230R Chongqing Cummins NT855-C280S10 Engine 169KW
B320 Chongqing Cummins NTA855-C360S10 Engine 235KW
5. Other Liugong Equipment
Liugong Brand Wheel Loader , Excavator, Roller,Motor Grader , Skid Steer Loader , Backhoe Loader, Forklift , These Construction Machinery Genuine and OEM Spare parts we can provide .
Another Bulldozer Parts we can provide as following:
Bulldozer parts: Shantui Bulldozer Part, Shanghai Pengpu Bulldozer Part, HBXG Bulldozer Part , Liugong Bulldozer part, Tianjin YISHAN Bulldozer Part.


Liugong Bulldozer Part,Liugong Spare Parts,Liugong Parts,Bulldozer Spare Part Cylinder Support
Jining Kunpeng Construction Machinery Equipment Co., Ltd , https://www.excavatorenginepart.com