 In the international competition of drying equipment manufacturers in China, Denmark, Switzerland, the United Kingdom, Germany, the United States and Japan's major competitors. Compared with competitors, the advantages of drying equipment in China are low prices. The disadvantages are the extent to which the products are controlled automatically, the appearance quality is complete, and the functional combination should be improved. Therefore, domestic drying equipment manufacturers should make full use of China's accession to WTO opportunities, strengthen technical exchanges with foreign countries, and learn from foreign advanced drying equipment no longer, in order to speed up the automation and control of drying equipment in China, and improve the appearance of quality. The combination of perfection and function has narrowed the gap with foreign products and improved the trust of customers. China's drying equipment is not only dominant in the domestic market, but also in foreign markets.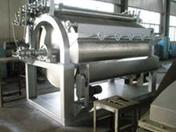 Photo of drying equipment in China
In the type of drying equipment, hot air heated atmospheric pressure drying equipment and vacuum drying equipment will be the main, and other users in special fields such as far infrared drying equipment and microwave drying equipment will also gradually expand the number of applications; in food and drug drying, Demand for larger-scale equipment in vacuum freeze-drying equipment will increase; demand for equipment with a combination of functions (eg granulation-drying, drying-filtration) will also increase; high-automated drying equipment will be welcomed in some applications. . In addition, the appearance quality of drying equipment will be more and more emphasized. The corrosion resistance and reliable service life of corrosive material drying equipment will be of particular concern to users.
As for the number of drying equipment manufacturers in China, it must be the world's largest country. There are only dozens of dry companies in Australia, Canada and Germany. There are fewer dry companies in Southeast Asian countries. However, in many drying equipment manufacturing companies, no matter whether it is the drying technology or equipment manufacturing level, there has not yet appeared a manufacturer that has a certain influence in the world and has a place in the drying industry, such as Japan, with less than ten drying companies. There are well-known companies such as Okawara and Tokushima. The type of drying equipment produced in China is only 30-40% foreign. Some equipment has replaced imported products, and some products still have a big gap compared with foreign products. Therefore, for more than two decades, although China's drying industry has achieved tremendous development, there is still a long way for China to enter the ranks of drying technology applications and drying equipment manufacturing countries.
News link:
Modern dryers started using fixed-bed dryers that were operated intermittently. In the middle of the 19th century, the use of tunnel dryers marked the development of dryers from intermittent operation to continuous operation. Rotary drum dryers achieve better agitation of the granular material, which increases the drying capacity and strength. Some industries have developed continuous operation dryers adapted to the requirements of the industry, such as drum dryers for the textile and paper industries.
In the early 20th century, spray dryers were used in dairy production to provide a powerful tool for large-scale drying of liquid materials. Since the 40's, with the development of fluidization technology, high-intensity, high-productivity fluidized bed and air dryers have appeared one after another. The cryogenic sublimation, radiation and dielectric dryers provide new means to meet special requirements. In the 60s, far infrared and microwave dryers were developed.
The technological content of drying equipment initially showed a leading role. Since 2004, the development of the national chemical industry has continued to improve, and the market situation for drying equipment has been stable and promising. Production enterprises have generally obtained better operating results. At present, the prominent feature of the drying equipment service chemical industry is that the technical content has become increasingly prominent. This is very different from selling products in the past mainly by price competition. Among them, some manufacturers of high-tech drying equipment, focusing on the development of new products, the benefits are increasing; on the contrary, some products with low technological content, new products and new technology development capacity of weak enterprises, the efficiency began to decline.
The market reaction shows that the chemical industry expects the dry equipment manufacturing industry to adjust its product structure in accordance with the requirements of high quality, low energy consumption, and environmental protection, further strengthen basic research, and solidify the foundation for applied research and development. In terms of technology, research on automation, testing, manufacturing processes, material design, and other aspects of materials has been strengthened. In terms of applied research and development, it is necessary to focus on international exchanges and cooperation, but also on the protection of intellectual property rights; it is necessary to pay attention to the development of new technologies and new applications, but also to focus on innovation and innovation in traditional processes and traditional applications.
Woodworking Cnc Router
With a CNC Router from UTECH International you will be able to greatly expand the capabilities of your shop, reduce labor hours, improve efficiency, and become more competitive in your market. A wide range of process areas we can accommodates all standard sheet sizes and an endless supply of CNC machine options, you can ensures that all woodworking needs are met.
Add an automatic tool changer for ultimate productivity when using multiple tools, multi-spindles for improving process efficiency and a high-power vacuum pump system to holds your materials in place on the zoned vacuumed bed.
Power your UTECH CNC router with virtually any CAM software, including ArtCAM, Vectric, Enroute, Type 3, AlphCAM or Mastercam. Connect your cabinet design software (KCDW, CabinetPro, RouterCAD, Cabinet Vision) to one of these CAM programs to create a complete nested based manufacturing solution.
MATERIALS:
Our CNC machines can easily process any of the following materials for the production of cabinet parts, furniture and furniture frames, dovetail drawers, mantles, decorative carvings, three-dimensional reliefs, and virtually anything else you can imagine.
Wood: Plywood, Soft Wood, Hard Wood, MDF, Chipboard
Plastic: Acrylic, ABS, HDPE, PVC, UHMW, HDPE

Stone: Granite, Marble, Slate, Basalt, Pebbles, Natural Stone, Ceramic, Porcelain

Metal: Aluminium, Brass, Copper, Mild Steel, Stainless Steel




Composite: Aluminium Composite, Copper Composite, Titanium Composite, Zinc Composite.

Cabinet & Door & Casegoods Making CNC Router:
Furniture: ideally suitable for processing cabinet door, wooden door, solid wood furniture, panel wood furniture, windows, tables, and chairs, etc.
Well-suited for processing panel, insulating materials, plastic, epoxy resin, carbon mixed compound, etc.
Decoration: acrylic, PVC, density board, artificial stone, organic glass, soft metals like aluminum and copper,
Designed to meet diverse and complicated processing requirements, highly versatile with routing, drilling, cutting, side milling, sawing and other functions.
Vacuum worktable fitted with aluminum alloy bars and suction cups is rigid yet flexible for various configurations. Cropping the full sheet to your ideal size, routing, drilling, sawing, cutting, and milling-multiple functions, all in one.
Features:
Separate heads:
Some wood routers have multiple separate heads that can come down simultaneously or not. Some routers have multiple heads that can run complete separate programs on separate tables all while being controlled by the same interface.
Dust collection / Vacuum Collector:
The wood router typically has 6"-10" air ducts to suck up the wood chips/dust created. They can be piped to a stand-alone or full shop dust collection system.
Some wood routers are specialized for cabinetry and have many drills that can be programmed to come down separately or together. The drills are generally spaced 32 mm apart on centres - a spacing system called 32 mm System. This is for the proper spacing of shelving for cabinets. Drilling can be vertical or horizontal (in the Y or X axis from either side/end of the workpiece) which allows a panel to be drilled on all four edges as well as the top surface. Many of these machines with large drilling arrays are derived from CNC point-to-point borers.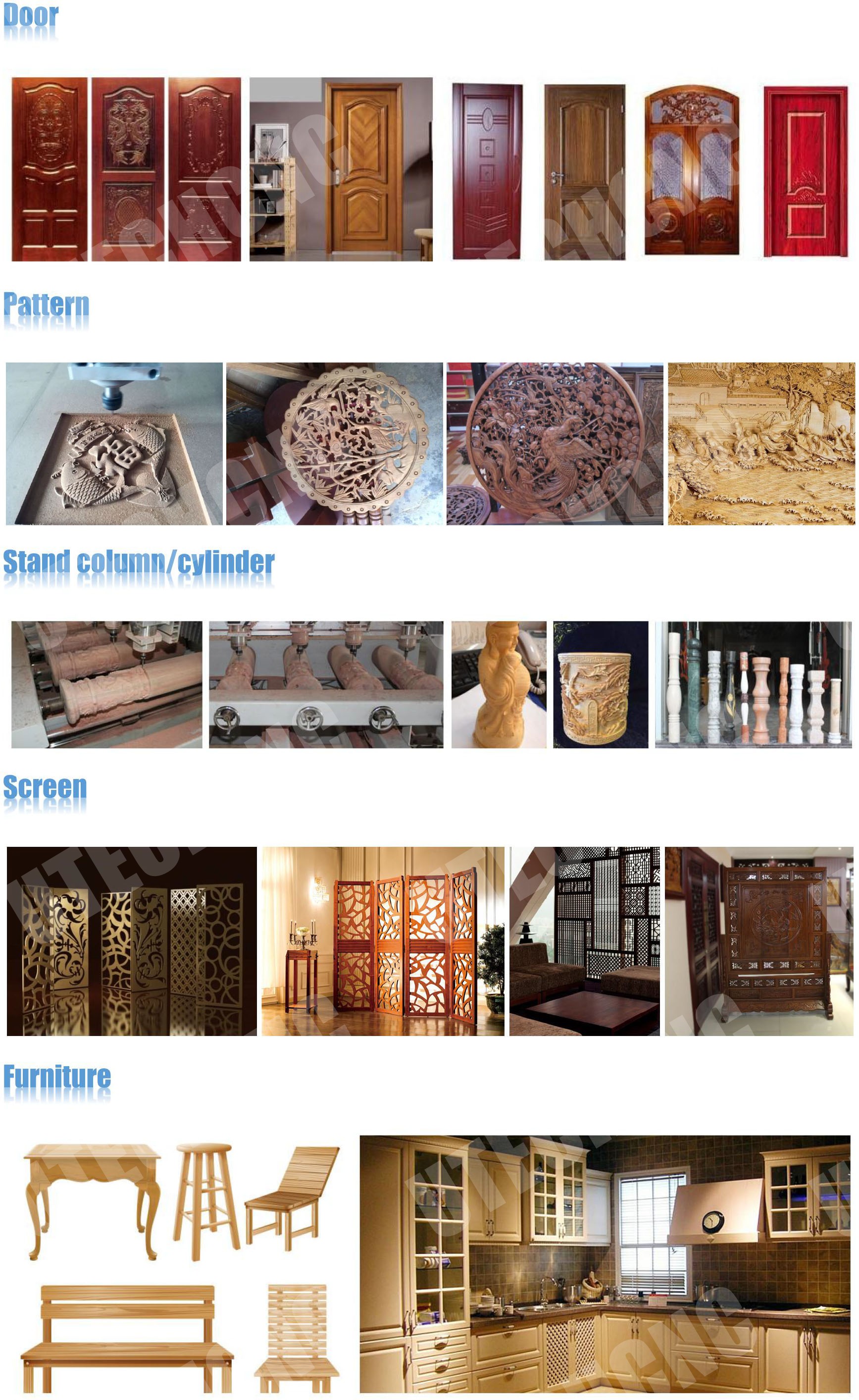 Woodworking Cnc Router,Wood Cnc Router,Woodworking Carousel CNC Router,Multicam Cnc Router
Shandong U-May CNC Technology Co., Ltd. , https://www.sesamecnc.com