Model NO.:

hwwc

Cooling Method:

Water-cooled

Selected Voltage:

220V, 380V, 160V, 440V etc.

Noise Level:

Ultra Low

Application Machine:

Combination machine

Condition:

New

Cooling Capacity:

15-150kw

Chilled Water Flow:

3-27.5CMH

Compressor Type:

Hermetic Scroll

Cooling Water Flow:

3.3-34.5CMH

Weight:

160-560kgs

Transport Package:

Plastc+Foam+Woden Case

Origin:

Guangdong Foshan
Type:

Water-Cooled

Unit Structure:

Integral

Compressor Number:

It Depend on The Cooling Capacity

Application Fields:

Air Conditioning

Certification:

ISO, CE

Name:

15 HP Industrial Water Cooled Water Chiller

Norminal Input Power:

2.7-31.5kw

Chilled Water Fresistance:

28-43kpa

Refrigerant:

R22/R407cr410A etc

Cooling Water Resistance:

28-45 Kpa

Trademark:

Headpower

Specification:

1unit/case

HS Code:

8418692090
1)The Feature o
f
 15 HP Industrial Water Cooled Water Chiller
a.High Pferformance
High-performance hermetic scroll compressor and multi-system optimized design ensures the unit'scoefficent of performance (COP value) is up to 5.4 during refrigeration or upt to 4.5 during heat supply
b.Excellent partial load characteristics
The unit can run normally even in lower refrigerantion output, and the microcomputer control system is able to rationally control the modulus running,meanwhile the refrigeration output of the modulus can be regulated by starting a number of compressors, therefore high-efficient running can be achieved even in the scope of low loads,ensuring the otimal matching of the outut and needed refrigeration and minimizing energy consumption.
In addition,for the business plazasor office bulidings which are leased,sold or used in separate floors,when smaller cold or heat loads are required for individual rooms, using traditional central air conditioneris not only a great waste of energy,but impairs the unit. 
In these cases, modular units are the best choice.
c.Small size and compact structure
Modular design idea is incorporated into all parts of the unit;pipes and core parts of the unit enjoy rational arrangement;the unit is of smaller sizes, light weight(a single module weight280-560kg only),covers smaller area;meanwhile it can be moved frelly without being affected by external construction conditions,especially suitaable for restructuring works.
d.Modular unit design and picked parts
The shell-and-bube heat exchanger is used,enjoys smaller sizes, safety,no leakage,high heat exchange efficiency,smaller heat loss and resistance,and easy maintenance.
e.One unit having three purposes
Such three functions as refrigeration,heating and provisionof living water can be performed.
f .The unit enjoys lower overall running noise(56-60dB)
High quality compressor and powerful external sound absorption housing are used and achieve super-low noise running
g.The unit is easy for assembly and maintenance,covers smaller space
The unit is delivered after refrigerant and compressor lubricating oil are filled and meters are calibrated,and it can be put into use after onsite assembly,pipe erection and electric wire conection.
h.Exclusive high-temperature water source unit
High outlet water temperature with maximum 65ºC is sufficient to provide living hot water,superior to traditional heat supplysystems.
The heating efficiency is over 4 and is safe anf reliable
2)Product model:
Performance                                                                    Model NO.
HWWC15
HWWC18
HWWC28
HWWC38
HWWC56
HWWC75
HWWC110
HWWC150
Cooling Conditions
Norminal Cooling Capacity
KW
15
18
28
38
56
75
110
150
Norminal Input Power
KW
2.7
3.9
5.3
7.9
10.5
15.8
23.5
31.5
Evaporator
Inlet/ Outlet Chilled Water Temperature
ºC
7~12
Chilled Water Flow
m³/h
3
3.5
6
6.9
12
13.8
20.8
27.5
Chilled Water Resistance
Kpa
28
30
32
32
35
38
42
43
Condenser
Inlet/ Outlet Cooled Water Temperature
ºC
30/35
Cooled Water Flow
m³/h
3.3
4.5
6.5
8.6
13
17.2
25.8
34.5
Cooled Water Resistance
Kpa
28
30
32
35
38
40
44
45
Refrigerant
Medium
R22
Compressor
Type
Hermetic Scroll
QTY
1
1
2
2
3
2
3
4
Electric Performance
Voltage
380V/3PH/50HZ
Security Prection
High and Low Pressure Protection, Anti Frozen Protection, Compressor Overheat Protection, Water Short Protection
Inlet/ Outlet Chilled Water Pipe
DN
25
25
32
40
50
50
65
50*2
Inlet/ Outlet Cooled Water Pipe
DN
25
25
32
40
50
50
65
50*2
Unit Dimension
L
mm
1200
1400
1600
1800
2200
2500
2800
2500
W
mm
650
650
650
650
800
800
1000
1500
H
mm
800
800
1000
1200
1200
1500
1500
1500
Noise Level
dB(A)
48
48
50
53
55
56
58
60
Weight
kg
160
170
180
190
250
280
400
560
 
 
 
 
 
 
 
 
 
 
 
 
Note: 1. Norminal cooling conditions: condenser inlet water temperature 30ºC, outlet water temperature 35ºC; evaporator inlet water temperature 12ºC, outlet water temperature7ºC.
         2. The company reserves the right to improve prodct designs without prior notice.
3)
 Dispaly:

4)Packing and shipping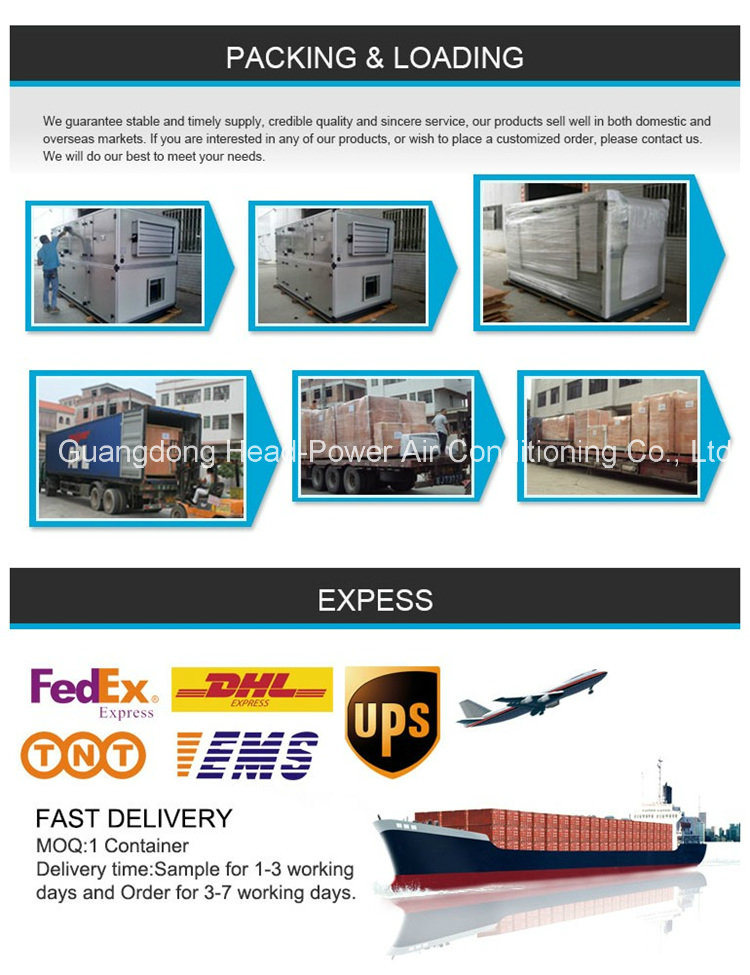 5)Our company file

6)Company Culture:
Serve the society with technology, serve the customer with    heart, become a  first level air conditioning company in China.
Innovation, loyalty, responsibility, value.
Provide customer with high quality product and considerable service.
7)Our services:
1) Changing on material, color, shape, construction:Acceptable.
2) General inspection on fixing before packing
4) We can offer you premium quality , competitive price, prompt delivery and low minimum orders.
5) OEM,ODM service.
8)Project and client:
| | | | |
| --- | --- | --- | --- |
| No | Project Name (Â China) | Industry | Area |
| 1 | Zhongshan people hospital | Hospital | Zhongshan |
| 2 | Hankou Railway Station, Union Hospital, Wuhan Branch | Hospital | Wuhan |
| 3 | Wuhan City, Wuchang Railway Hospital | Hospital | Wuhan |
| 4 | Three townships Zhongshan People's Hospital | Hospital | Zhongshan |
| 5 | Zhujiang hospital of Guangzhou | Hospital | Guangzhou |
| 6 | Zhongshan Garden Hotel | Hotel   industry | Zhongshan |
| 7 | Western Sunshine Hotel, Zhongshan | Hotel   industry | Zhongshan |
| 8 | Shunde Golden Hotel | Hotel   industry | Foshan |
| 9 | East China Hotel in Guangzhou | Hotel   industry | Guangzhou |
| 10 | Nanyou Zhuhai hotel | Hotel   industry | Zhuhai |

No

Company Name (Â Overseas)

Product

Country

1

SB Global Energy

Air cooled ducted split

Holland

2

Bentos pharmaceutical products Ltd.

Clean air conditioners

Nigeria

3

SOGAMEF

Air cooled chiller

Gabon

4

SeaService shipping

Marine air conditioner

Russia

5

EURO STANDARD LIMITED

Fresh Air Handling Unit

New Zealand

6

Henrich trading center

Air cooled/water cooled air conditioner

Philippines

7

Marine Engineering Systems Pte.Ltd

AHU, chiller,etc

Singapore

8

Elektro Werner Heitzinger

Heat recovery air handling unit

Austria

9

Nyborg Marine Equipments AS

Marine Air Handling Units

Norway

10

Wilfred Limited

Heat recovery air handling unit

UK
 
Carrie Mak
GuangDong Head-Power Air Conditioning Co.,Ltd.
Add: Shiling Chenbian Section, 321 National Highway, Shishan Town,
Nanhai District, Foshan,Guangdong,China.
Mobile :86-15024293999
Fax:86-757-86688063
 
http://www.china-headpower.com
Scrap Metal Melting Furnace is quite ideal for scrap metal smetling.Rongke furnace specialized in design and manufacturing medium frequency Induction Furnace since 2013, now we have over 300 sets of smelting system running around the world and yearly revenue over 100 million CNY, every year our sales are expanding at least 1.5 times over last year and factory area too is enlarging every two years. now the factory is covering over 15000 sqm. Among the 110 employees we have 20 R&D engineers.
scrap metal melting furnace
FOSHAN RONGKE INDUSTRIAL ELECTRIC FURNACE CO.,LTD , https://www.rongke-industrial.com